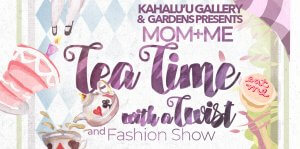 Our Mother's Day event will be a modern and whimsical take on tea time with subtle inspiration from Alice in Wonderland. We will be offering a variety of tea selections by Tea Chest, exclusive dishes created by La Tour, photo-worthy pastries by A Cake Life, and Cafe Kaila's famous cream-cheese and blueberry scones. Traditional tiers will be plated and served per table in the shaded lawn. Arrive early to take a picture with Alice and the Queen of Hearts. While enjoying your meal, watch as models sashay through the garden exhibiting the newest creations from the minds of Elizabeth Kent, Rumi Murakami and Alinea Jewelry.
10AM Doors open. Please stroll through the gallery and gardens and take a photo with Alice and the Queen of Hearts.
11:30AM Tea service will begin
12:00PM Enjoy your meal as you watch our lovely models display Elizabeth Kent, Rumi Murakami and Andromeda Hendricks's newest creations!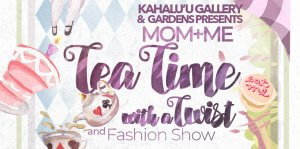 Tickets can be purchased at:
https://www.eventbrite.com/e/mothers-day-high-tea-fashion-show-feat-rumi-murakami-and-elizabeth-kent-tickets-60449112924
More about the artists
Elizabeth Kent
With a lifelong interest in art, Elizabeth focuses on Japanese textiles, especially kimono. She loves the color, fine workmanship, history and everything there is about kimono. Elizabeth deconstructs the kimono, then reconstructs them into wearable art. Each jacket, vest, shawl or scarf is a one-of-a-kind object that showcases the vintage fabric. Elizabeth is a prize-winning artist for her quilts and other art wear that have been included in juried art shows on Oahu, Hawaii Island, and in Illinois. Last year, one of her "tribute jackets" was awarded first place.
To learn more about Elizabeth, visit her website at www.vestedinteresthawaii.com/about.php
Rumi Murakami
Rumi Murakami's collection is created for those who love modern design, recognize quality workmanship and appreciate small-batch availability. The collection is available off the rack and cut to order.
At an early age, Rumi spent hours poring over her mother's Bazaar magazines and recreating designs using makeshift patterns and an old Singer. Influenced deeply by her Japanese heritage and a childhood immersed in the creative counter-culture of Northern California's Bay Area in the late 1970's, Rumi's design philosophy follows a tradition of handcrafting as opposed to high volume production.
To learn more about Rumi, please visit her website at https://www.rumimurakami.com/
Alinea Jewelry
Alinea is a collection crafted by artist Andromeda Hendricks using the traditional technique of lost wax casting. She studied Small Scale Sculpture under distinguished Hawaii artist Fred Roster.
Alinea Jewelry launched in 2015 during the Pre-Emmy Style Lounge in Sunset Marquis, West Hollywood. Celebrities that own custom Alinea pieces include Ruby Rose, Ming Na Wen, Teri Polo and Kyra Santoro. Alinea Jewelry was featured during the 2017 NY Fashion Week in MANAOLA's debut fashion show.
Each piece designed by Andromeda is a unique creation bearing her connection with nature. The designs are reminiscent of forms in nature such as ripples of the ocean, shifting grains of sand and the majestic flow of lava.
To learn more about Andromeda, please visit her website at http://www.alineajewelry.com/